The spawn library. All books within this library are approved by librarians.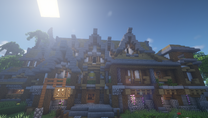 History
The library and librarians were introduced on May 12, 2016. In late 2016, lore scrolls were introduced and players were able to add special text to their items by talking to Librarian Lydia. On September 23, 2017, lore scrolls and stat track charges were converted to the premium currency, orbs. Loka guides were introduced and players could toggle their guide status by talking to Askil in the library on October 24, 2020.
Floors
Below is a list of all the types of books within the library.
Ground Floor
Town Lore
Fiction
Non-fiction
Miscellaneous
First Floor
Culture
Player Lore
Server Lore