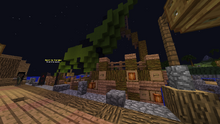 The southern continent. Garama can be assessed by the port on Aladra.
Resources
Resources that can be found on Garama are as follows.
Pigs/Pork
Ocelots
Jungle Trees
Acacia Trees
Coca Beans
Pumpkins
Cacti
Melons
Carrots
Pufferfish
Clownfish
Vines
Lilypads
Stained Clay
Red Sand
Beetroot
Jungle
Ocelots, and jungle trees can be found here.
Desert
Cacti can be found here.
Mesa
Stained clay can be found here.
Swamp
Black-stained clay, beet root, vines, mushrooms, pumpkins, lily pads, and lilacs can be found here.
Savanna
Acacia trees, Pumpkins, Horses and Carrots can be found here.
Deadlands
Underholme
Oasis
Burning Sea
The sea that circles Garama