Start Point:
Speak to Asair
Official Difficulty
Intermediate
Length
Short - Long
Requirements
Complete No Place Like Home
Items Required

7 Stone Bricks
2 Redstone Lamps
1 Chest
1 Lever
1 Diamond Block

Enemies to defeat
Must be able to survive in the nether.
______________________________________________________________________________________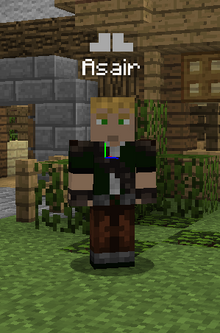 Step 1: Speaking to Asair
Speak to Asair and he will tell you about the vital structures of towns. He will tell you generators are a key to making a town. He needs you to obtain items to make said generator schematic. He needs:
7 Stone Bricks
2 Red stone Lamps
1 Chest
1 Lever
1 Diamond Block
Step 2: The Stone Bricks
After Asair has given you the list, head back to your home and obtain some stone bricks. To get stone bricks you need at least 16 cobblestone. You make 8 of the cobblestone into a furnace and smelt the 8 cobblestone into stone. Then turn the stone into stone bricks. After you make your 8 stone into 8 stone bricks, throw the extra stone brick into fire. Then bring the 7 stone bricks to Asair.
Step 3: Redstone Lamps
After Asair takes the stone bricks you will need to gather 2 redstone lamps. You will need gear to traverse the nether to obtain 2 glowstone blocks to make them. If you are feeling adventurous you can play tag with the pigmen while there. After you obtain the glowstone, combine them with 8 redstone to make the redstone lamps. Bring them to Asair.
Step 4: The Chest
After Asair takes the redstone lamps he will ask you to get a chest. You will need 8 planks to make this chest. Then give the chest to Asair once you complete it.
Step 5: The Lever
After Asair takes the chest that you handcrafted he will ask you for a delicate lever (not a complex one, but a delicate lever). You will need a stick and a piece of cobblestone to make this lever. Once you delicately make this lever, hand it into Asair.
Step 6: The Diamond Block
With the lever handed in there is once component left to make. A singular diamond block. To get this diamond block you will need at least an iron pickaxe. Then you will need to mine below y-16 (around y-12 should be perfect). Once you have found 9 diamonds, craft them into a diamond block and hand them to Asair.
Step 7: The Schematic
With all the items turned in, Asair hands you the generator schematic so you can setup your future city.
Quest Complete
_______________________________________________________________________________________
Reward: